Thinking of moving to Lyon, France? If so, then you are on the right track. There are many reasons why living in Lyon, France, is a good decision.
For one, this city is a significant historical landmark and has become a Unesco World Heritage Site. Besides that, Lyon is also known as the centre of gastronomy in France. Residents of Lyon will enjoy beautiful city views and good food.
Before you pack your bag, check out the 6 updated essential facts that we will share in this article. These facts include the basic facts, the cost of living in Lyon, the neighbourhoods, job opportunities, and things you can enjoy in this city.
1. Basic Facts Why Living In Lyon, France, Is A Good Idea
The following facts will show that Lyon is an excellent place to live in France and a popular destination for people who work in various industries.
You will get an insight into what it is like living in Lyon after reading this section.
Digital Nomads' Favourite Place
French cities are known as the favourites of digital nomads, and Lyon is one of them. This city offers hospitality that attracts people worldwide to move and live here.
Besides that, Lyon is known to have a fast internet connection, which is crucial for remote workers. Wouldn't it be nice to be able to work while enjoying the beauty of Lyon?
Friendly Community
Lyonnaise people are known to be friendly and welcoming. This community is even known to be open to minority groups such as LGBTQ.
The local community makes everyone living here feel safe and comfortable. However, to help you make more friends in Lyon, it's best to learn French. This way, you will not face significant difficulties in your daily communication.
One Of The Safest Cities In France
Lyon is a safe city, and it is even known as a safe place for women. Of course, there are crimes here and there, but the crime rate is relatively low.
Pickpockets are known to be prevalent in tourist destinations, so you should keep your belongings safe at all times when visiting city attractions. In addition, you should be aware of drunk people when you are in crowded places in Lyon.
As long as you are aware of your surroundings, there is nothing to be afraid of in Lyon.
Cold Weather
Cold and damp winters in Lyon can be a real downside. The temperature during this season may dip below 24°F (-4.4°C). However, the spring, fall, and summer months are pretty nice and tempered.
To make the cold winter more enjoyable, try visiting the Lyon Festival of Lights, Christmas markets, or go for a skiing experience.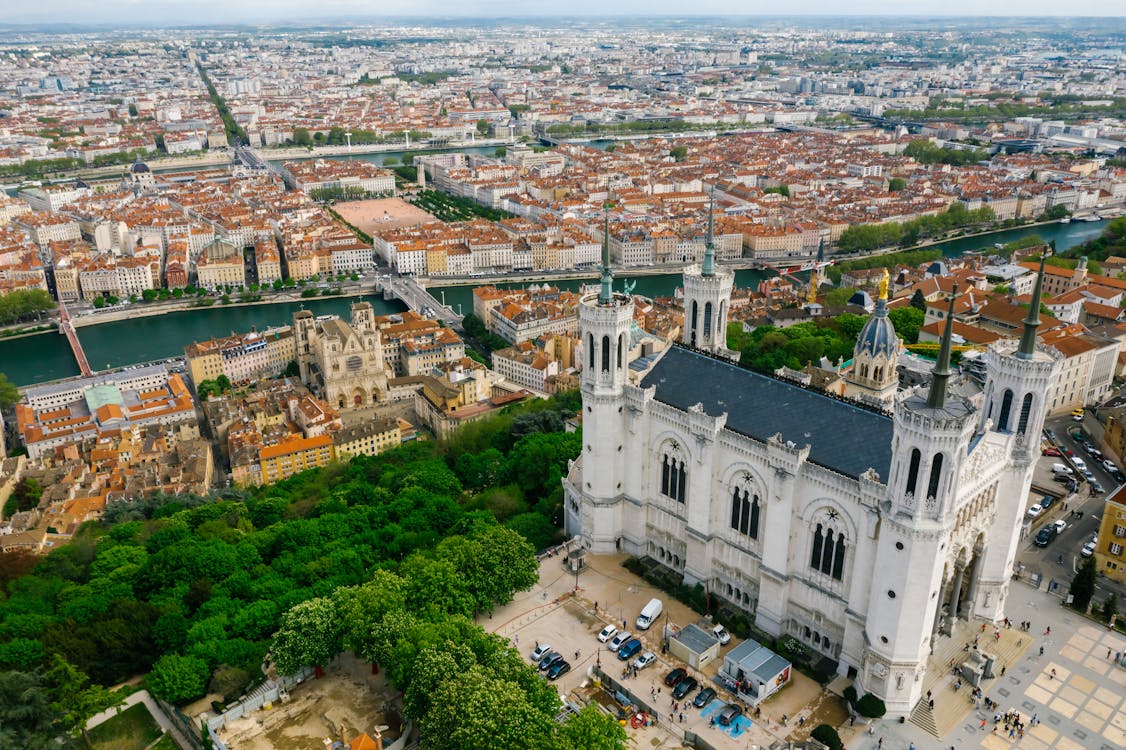 2. Lyon Has Beautiful Neighbourhoods Across The City
Living in Lyon means you have options of neighbourhoods that suit your needs. Whether you are a single young professional or a parent, Lyon has the right neighbourhood for you.
Additionally, Lyon is a walkable city. This means wherever you live, it will likely be pedestrian-friendly.
To help you search for the right neighbourhood, here are some recommendations for areas that are safe and not overcrowded:
Brotteaux
Brotteaux is located in the expensive part of the city where the foreign consulates are. This area offers stunning bourgeois buildings, schools, fine restaurants, bars, and bus stops.
If you can afford to live in this area, then go for it. You will enjoy walking around the area and taking in the beauty of the architecture.
Fourvière
Fourvière is known as the place for historical and religious landmarks in Lyon. As one of the tourist destinations, this area can be crowded. However, it is still considered a family area.
Fourvière is also one of the most walkable areas in Lyon, where the amenities are within walking distance. There are also schools around the area for families with schooling age children.
Croix-Rousse
Croix-Rousse is included in the 4th arrondissement of Lyon. It is a less expensive area compared to Fourvière and Brotteaux. However, this area is one of the safest in Lyon.
This neighbourhood offers excellent amenities such as hospitals, schools, bus stops, restaurants, shops, grocery stores, and parks. Croix-Rousse is also a perfect place for young professionals and families due to the reasonable housing prices.
3. Plenty Of Job Opportunities Awaits You In Lyon
Lyon is the third-largest city in France after Paris and Marseille and has been bustling with industries and business since the Middle Ages.
To help you in your job search, here are some of the significant industries in Lyon, France:
digital technologies,
clean energy,
logistic and transport,
sustainable tourism,
food, farming, gastronomy, and
health and biotechnologies.
If you are interested in pursuing an advanced career in one of the above industries, you should consider Lyon as your destination.
Finding a job in Lyon for foreigners may not be easy, but it is possible. You can directly apply to the company online or through an agency, or ask your local friend to refer you to the employer.
4. Lyon Is An Expensive City
Lyon is not necessarily an affordable place to live, even though its cost of living is considered 20% lower than Paris. However, this cannot hold anyone back from moving to this city since Lyon has more to offer.
To make a budget for your living expenses in Lyon, you need to know the average monthly expenses here. It is estimated that a family of four and a single person spend around €3,078 and €860 a month respectively, excluding the monthly rent.
The house prices in Lyon are relatively high. The average house price is €5,300 per square metre. This price can be higher in a particular area, such as the sixth arrondissement. The average house price here is €7,000 per square metre.
On the other hand, the average monthly rent in Lyon is €883. If you want a cheaper monthly rent, you should pick a neighbourhood outside the city centre.
To save more money in Lyon, you can follow these tips:
Shop at the flea markets on the outskirts.
Visit free city attractions such as Parc de la Tête d'Or.
Get a Lyon City Card to get a discount for entering more than 50 attractions in Lyon and access to public transport.
Dine at inexpensive restaurants.
5. There Are Beautiful Landmarks You Can Visit
Lyon is a beautiful city, so you do not want to miss your chance to visit historical sites and beautiful places here.
To help you start your exploration, here we recommend you to visit the following landmarks in Lyon:
Vieux Lyon (pictured above),
Hôtel de Ville (City Hall),
La Place Bellecour,
Basilique Notre Dame de Fourvière, and
Colline de Fourvière.
Another fun thing to do in Lyon is attend an annual festival. Lyon has several festivals throughout the year, but the most awaited one is The Festival of Lights. This is where people can see the lights decoration illuminating the city.
6. You Will Love The Food Scene In Lyon
Lyon is known as a city with an excellent food scene. Therefore, it will be fun to explore the different tastes of the traditional Lyonnaise cuisine.
The following dishes are the traditional local dishes and favourites:
Lyonnaise potatoes,
andouillette,
tablier de sapeur,
quenelle (pictured above),
coussin de Lyon, and
bugnes.
Besides the dishes, Lyon is also famous as a wine-tasting hub. This city is located in the middle of French wine-making areas and vineyards.
The famous wine areas you can access from Lyon are Rhône Valley and Beaujolais. The best way to go to these areas is by taxi.
Conclusion About Moving To Lyon, France
Lyon is an amazing city with opportunities to work for various industries, reasonable living expenses, high walkability, friendly people, delicious dishes, and many city attractions.
This city also has various neighbourhoods that suit everyone's needs. Many of these neighbourhoods are also artistic with beautiful architecture.
Even though most neighbourhoods are safe, you still need to be careful of theft, pickpocketing, and drunk people. These crimes usually occur in crowded areas like Vieux Lyon.
To help your relocation process, it is best to hire a professional like Sanelo. Our team is ready to help you ship your belongings to Lyon.
Frequently Asked Questions About Moving To Lyon, France
Is Lyon, France, A Good Place To Live?
Lyon is generally a good place to live, especially if you are looking for a high quality of life. This city has two rivers (the Rhône and Saône Rivers), parks, beautiful neighbourhoods, and delicious food.
How Much Do I Need To Live In Lyon?
The average salary in Lyon is €42,684 per year. This amount is enough to pay decent living expenses in Lyon.
Where Do Expats Live In Lyon, France?
West and Southwest Lyon are popular areas among the expats. Most of them live in Ecully, Tassin-la-Demi-Lune, Ste. Foy Lès-Lyon and St. Genis Laval. These areas have easy access to the city centre but are closer to the mountains area.
Why Should I Engage Sanelo For My Relocation To Lyon?
Carrying heavy luggage on your moving date will add the hassle. Therefore, a professional like Sanelo will help you ship your belongings to Lyon to have a more comfortable relocation.
You can contact us two to three months before your moving date so our team can schedule the shipment. It will also give our team sufficient time to prepare all the essentials for your relocation.
To find more information about moving to cities in France, please check the following articles: